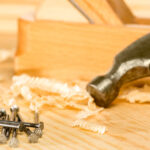 There's no part of the roof system more crucial for your building safety during the rain, than the gutters.
They stand in between the furious weather and your roof, siphoning all the extra water down the drains.
But as it oftentimes happens, those gutters get clogged with either a debris, fallen leafs or even some tiles & shingles that have fallen off of the roof.
To clean those is basically to ensure that your indoors premises will not get flooded with water as the next rain or hails storm comes around.